Human Rights
Polish Prize of Sérgio Vieira de Mello, UN High Commissioner for Human Rights 
Awarded to individuals and non-governmental organizations for their efforts to promote peaceful coexistence and cooperation among societies, religions and cultures.
Winners of the 2nd edition of the Award:
Category: Person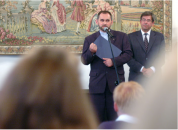 Father Marian Żelazek, SVD (1918-2006) – polish Roman Catholic priest, a missionary and member of the Societas Verbi Divini. During the Second World War, a prisoner of the Dachau concentration camp. Graduate of theological studies at the Anselmianum Institute in Rome. Since 1950, he worked as a missionary in Kesramal, Northern part of the Indian Orissa state, teaching native tribal inhabitants of India, Adivasi. He founded 165 schools. Since 1975 he devoted his life to social, educational, charity and medical work for people suffering from leprosy in a leprosarium which he opened in Puri, the Bay of Bengal. Advocate of ecumenical dialogue, founder of the St. Arnold Spirituality Centre in Orissa. In 2002, he was nominated to Nobel Prize.

Category: Organization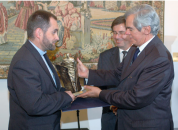 "Krzyżowa" Foundation for Mutual Understanding in Europe– independent Polish NGO advocating European understanding and mutual respect between nations, communities and individuals, and facilitating development of the European civil society. "Krzyżowa" is a place of cooperation and dialogue, vibrating with energy of life thanks to diversity of people meeting there, their ideas and actions. The Foundation has its seat in a palace complex at Krzyżowa in the Lower Silesia Region, the place which was once belonged to the family von Moltke and was a centre of operation for "Krąg" opposition group during the Nazi times. In 1989, Krzyżowa witnessed a historic Reconciliation Mass, which brought the Polish Prime Minister Tadeusz Mazowiecki and the German Chancellor Helmut Kohl together.