Seniors' Activities Centre
Seniors' Activities Centre
About project: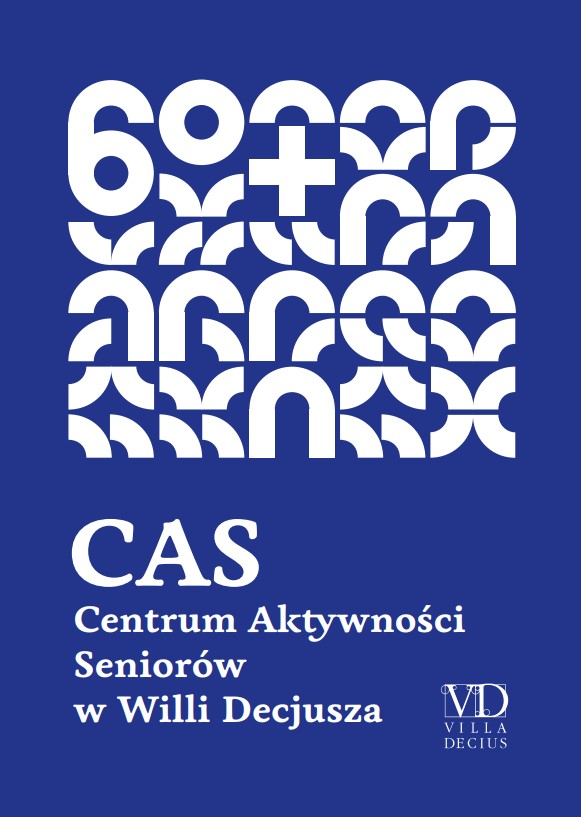 The Seniors' Activities Center has been operating in the Villa Decius Association since 2017. Today, it brings together nearly one hundred and fifty members who participate in a rich and varied offer of classes dedicated to people aged 60+ living in Krakow. Activities take place in the Blue Room located in one of the buildings of the Villa Decius palace complex – an outbuilding called Łaski's House. The Blue Room with the adjoining Gothic Garden is available to CAS members 5 days a week for classes, integration meetings and a cafe for seniors. CAS at Villa Decius also offers to its members meetings in museum spaces, educational and sightseeing trips and workshops conducted by lecturers and experts in various fields, such as: drawing, fine arts, literature, language and others.
Cele:
The Seniors' Activities Center (CAS) at Villa Decius is a project aimed at integrating and activating people aged 60+, deepening the knowledge of seniors, their cultural competences, creative and social potential, as well as keeping the elderly in good physical, mental and intellectual condition as long as possible. CAS is also a meeting place where seniors during classes on the use of devices related to new technologies can count on help in solving various types of problems in the use of the latest technology, e.g. with computers or mobile phones. Developing the creativity of seniors and strengthening their manual or compositional skills are served by photography workshops, art classes in various techniques and a drawing course, during which participants enrich their creative workshop. The effects of these activities in the form of drawing, painting or photographic works often become a pretext for organizing exhibitions and presenting the achievements of the members of the Senior Activity Center at Villa Decius.
Art history classes in the form of lectures held in museum spaces and as part of exhibitions in Krakow galleries and combined with the transfer of knowledge about artists or historical periods allow you to deepen your knowledge and interests in the areas of cultural heritage and art, and to meet the needs of learning about both the achievements of the past creators as well as the latest artistic trends.
The Seniors' Activities Center in Villa Decius also brings together a large group of enthusiasts of writing their own texts. During the literary workshops "Let's Write So" and classes as part of the Book Club or Socrates Debates, participants will learn together various forms of texts, from journalistic, literary reportage, to fiction and fiction, which are primarily an introduction and inspiration to what is most important to seniors , i.e. a variety of practical exercises focused on attention to language and content.
Thanks to participation in integration meetings, seniors engage in various activities as volunteers, develop their social activity and interpersonal contacts.
Sponsorzy:
The project is financed by the City of Krakow.