Human Rights
Polish Prize of Sérgio Vieira de Mello, UN High Commissioner for Human Rights 
Awarded to individuals and non-governmental organizations for their efforts to promote peaceful coexistence and cooperation among societies, religions and cultures.
Winners of the 4th edition of the Award:
Category: Person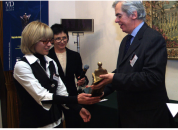 Maryna Hulia – Russian teacher and promoter of Russian, Belorussian and Ukrainian cultures. Since 2005 affiliated to the Polish Association for Legal Education. Curator of exhibitions of Belorussian artists, among others, Paweł Wojnicki and Aleksander Litin, and also the batik exhibition of Elena Dzikavitska, political refugee. She initiates and manages charity collections for Children of Beslan and Chechen refugees. Her priority is to promote peaceful coexistence of societies, religions and cultures, as well as overcoming stereotypes in perceiving refugees and "others" – prisoners, former prisoners and their families. Her actions stimulate activities of social groups and enable immigrants to adapt better and quicker to the reality of their new country of residence.
Category: Organization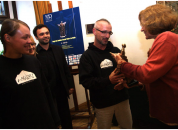 The Magurycz Associationis a non-profit organisation based in Nowica in the Low Beskid Montains. The 27 years long period of the Association's activity is based on the social work of volunteers from Poland and Ukraine. The Association aims at protecting the cultural heritage, focusing on the sepulchral art (stone masonry) of the denominational cemeteries (Rusyn, Ukrainian, Jewish, Polish, German) and on the roadside sacral architecture, which were abandoned after wars and resettlements in South-Eastern Poland and Ukraine. A very important part of the Association's activity is promoting the concept of multicultural heritage and presentation of its values through the stone masonry workshops, exhibitions, as well as theatrical and publishing activities.