Human Rights
Polish Prize of Sérgio Vieira de Mello, UN High Commissioner for Human Rights
Awarded to individuals and non-governmental organizations for their efforts to promote peaceful coexistence and cooperation among societies, religions and cultures.
Winners of the 9th edition of the Award:
Category: Person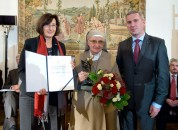 Sister Rafaela – Urszula Nałęcz– Polish missionary and pedagogue, creator of missionary educational centres in India, Republic of South Africa and Rwanda. In her work she is particularly focused on providing help to orphaned and blind children. In 1954 she joined the Franciscan Sisters of the Holy Cross and took her vows in 1963. She worked for the Educational and Training Centre at Laski and cooperated with the Primate's Committee for People Deprived of their Freedom and their Families. As a missionary and pedagogue, she worked in India, where she founded a centre for blind children; first an orphanage and then a primary boarding school. She also helped orphans and the blind in the Republic of South Africa. It is thanks to her hard work that the first centre of its type was created in Rwanda, under the name of The Kibeho Educational Centre for the Blind. Her work was recognized by President of the Republic of Poland, Bronisław Komorowski who awarded her with the Officer's Cross of Polonia Restituta. Holder of Bene Merito Distiction of Polish Minister of Foreign Affairs and Laureate of the PONTIFICI – Building Bridges Award issued by the Warsaw Catholic Intelligence Club for "merits in promoting the values of common good, dialogue and sacrifices made for others".

Category: Organization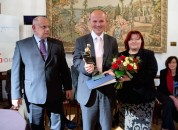 People in need (Človĕk v tístni) – the oldest in the Czech Republic and one of the largest non-governmental organizations in Central Europe which has worked for the protection of human rights and taking humanitarian aid to trouble areas across the world. It was founded in 1992 by war and international correspondents and soon it expanded its areas of activities and became a professional humanitarian organization. It is currently involved in humanitarian aid, global development cooperation, promoting human rights, social integration and educational and informational activities. People in Need is also an organizer of annual International Documentary Film Festival "One World" devoted to the theme of human rights, and grants "Homo Homini" award to people who have particularly contributed to human rights and development of democracy in the world.
Honorary Award: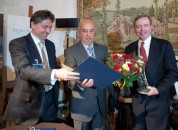 Arnold Wellman – A citizen of the United States, Arnold Wellman for many years held the post of Vice President for Corporate and Public Relations at American UPS (United Parcel Service) Corporation. Currently, he is a member of the boards of US Council for International Business, US ASEAN Business Council, the American Trucking Association, the National Center for APEC, and the National Bureau of Asian Research.