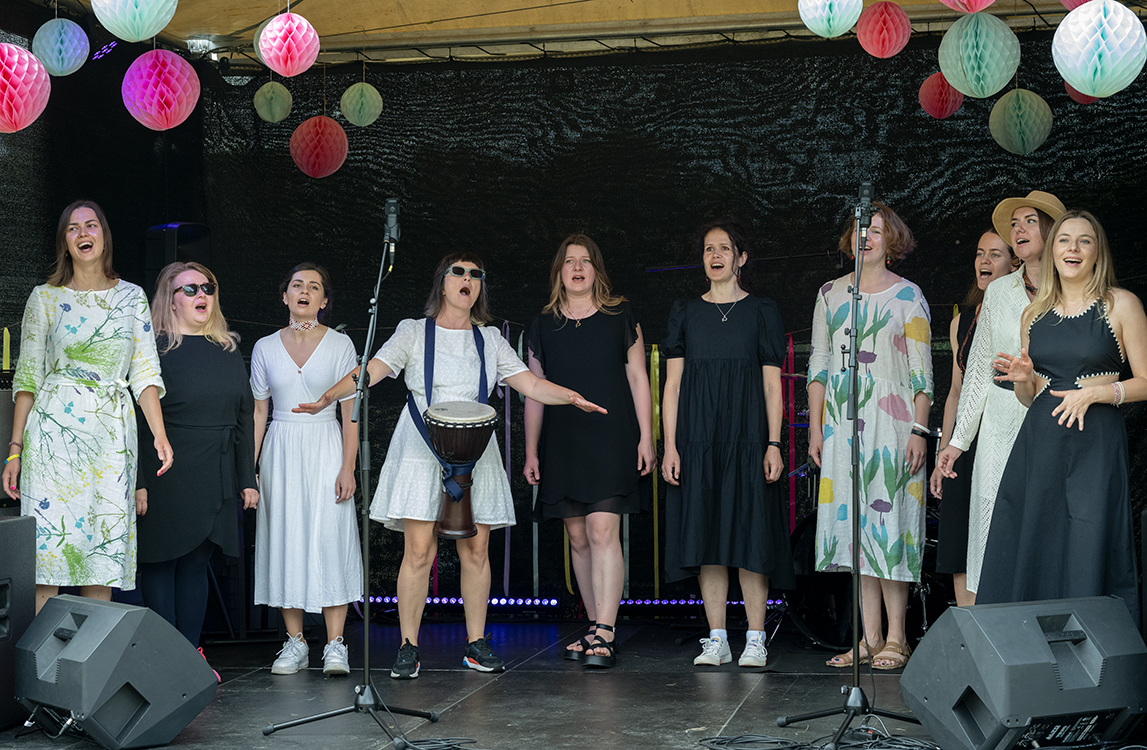 Another event under the project "Culture in Exile 2023" is behind us. On July 29, 2023, the second concert of the ETNO Choir from Belarus organized by Villa Decius took place in  Park Jordana in Krakow. The concert was an event accompanying the Belarusian picnic "Letucień" initiated four years ago by the local Belarusian diaspora.
In June 2023, the ETNO Choir performed as part of the Solidarity Days at Villa Decius, presenting the traditional Belarusian women's rite called "kumlenie" consisting of jointly wrapping wreaths and passing through a gate made of birch twigs so that mutual friendship lasts throughout the next year. This time, the artists presented Belarusian songs traditionally sung at the end of summer and associated with activities typical for this period, such as harvests.
The founder of the ETNO-BAND – Nasta Chmiel – is a vocalist, multi-instrumentalist, composer as well as singing and instrumental teacher. For many years, she has been conducting ethnic singing workshops, djembe games and music therapy workshops. She plays and sings in the band KRIWI. She has a musical education as a choir conductor, she also worked with amateur singing groups for youth and adults. Nasta moved from Belarus to Krakow over a year ago due to political repression, as she actively participated in the 2020 protests in Belarus. In October 2022, in cooperation with the Autonomia foundation, she created an amateur ethnic singing group in Krakow. It consists mainly of migrants from Belarus and Ukraine.
As part of the "Culture in Exile 2023", the artistic residence of the talented Belarusian photographer Maria Elena Bonet has also begun at Villa Decius. The artist will carry out her new project inspired by the work of Czesław Miłosz, in particular by the poem "The Issa Valley". Artistic activities of Maria Elena Bonet will be focused on the theme of the river, which appeared both in her previous artistic projects presented under the project "Culture on Exile": "My river" and "Engagement with the sea", as well as in the works of the Polish Nobel laureate. During her stay in Kraków, Maria plans to delve into the work of Czesław Miłosz and visit places related to his life.
The next activities planned under the project "Culture in Exile 2023" will be the residential stay of the esteemed Belarusian writer Vladimir Arlov, author of novels such as: "Homeland. From Ogiński to Bohuszewicz" and "Names of Freedom", and the organization of an exhibition of the outstanding Belarusian chalcographer Żmicier Shapovalov, whose work refers primarily to the history of the Grand Duchy of Lithuania.
Sponsors:
*Project financed by Solidarity Fund PL within the framework of the Polish development cooperation of the Ministry of Foreign Affairs of the Republic of Poland.