Human Rights
Polish Prize of Sérgio Vieira de Mello, UN High Commissioner for Human Rights 
Awarded to individuals and non-governmental organizations for their efforts to promote peaceful coexistence and cooperation among societies, religions and cultures.
Winners of the 6th edition of the Award:
Category: Person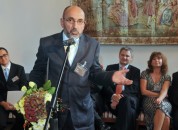 Fatos Lubonja – albanian writer and publicist and human rights activist. In 1974, he was imprisoned for his writing activity and was sentenced to 17 years' imprisonment. After his release from prison in 1991, involved in Human Rights Forum and a publisher of the quarterly review "Përpjekja" ("Endeavour"). Member of the Albanian Helsinki Committee. Author of many books and publications: "In the Seventeenth Year" (1994), "The Final Slaughter" (1994), "The Second Sentence" (1996), "Threatened Freedom" (1999), "Albania's Heritage in Danger" (1999). His "Albania – Threatened Freedom" was published in Polish by the Pogranicze Publishing House (2005).
Category: Organization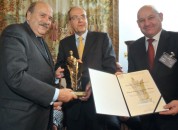 The United Nations Assistance Mission for Iraq (UNAMI)– headed by the Special Representative of the UN Secretary-General for Iraq, UNAMI is mandated to advise and assist the Government and people of Iraq on inclusive political dialogue and national reconciliation, the electoral process and in the planning for a national census, facilitating regional dialogue, and promoting the protection of human rights, judicial and legal reform. UNAMI has played a crucial role in providing significant support in the drafting of the Iraq's 2005 Constitution, assisting in six elections and coordinating UN humanitarian efforts. After having successfully helped establish, train and advise Iraqi first High Electoral Commission, the Mission is currently assisting the Government establish an Independent High Commission for Human Rights to promote and protect the rights of all Iraqi people according to international standards. UNAMI is headquartered in Baghdad with offices inside Iraq (Erbil, Basra and Kirkuk) and outside the country, in Kuwait, Amman and Teheran.

Honorary Prize: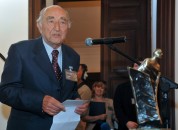 Leopold Unger – Polish journalist of Jewish descent, columnist, essayist, commentator of international affairs, widely known under pen names Brukselczyk or Pol Mathil. During the Second World War he stayed in Romania, where since 1948 he worked as a correspondent for the Polish Press Agency in Bucharest. After the war, he worked in Warsaw for the daily "Życie Warszawy". In 1967 removed from the editorial team for political reasons and forced to leave Poland in 1969.
Since 1969 a publicist for the Brussels daily "Le Soir" and collaborator of "Kultura" (Paris), "Radio Free Europe – Polish section of BBC" and "International Herald Tribune". A regular columnist for the daily "Gazeta Wyborcza". Received the Polish PEN Club Award and the Jan Karski Eagle Award.