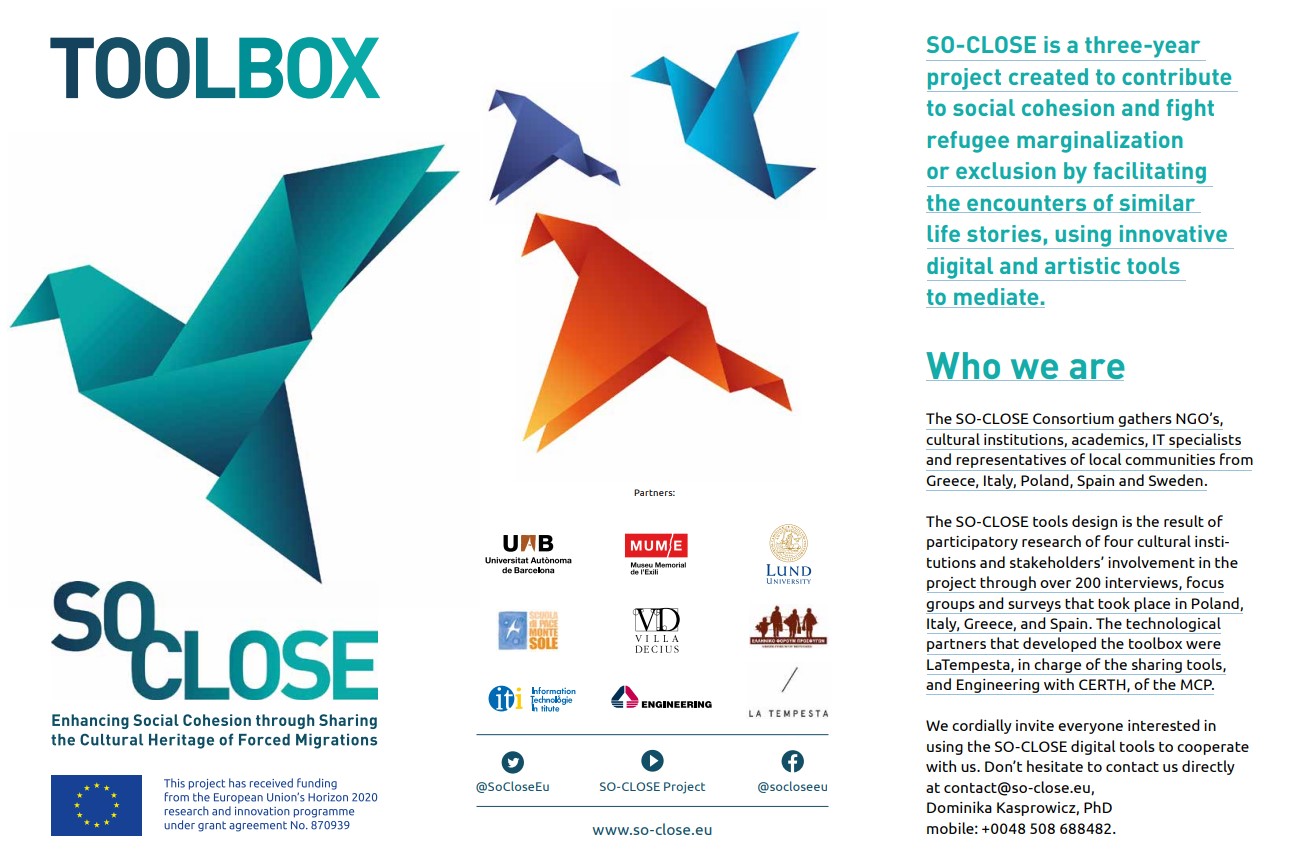 SO-CLOSE is a three-year project created to contribute to social cohesion and fight refugee marginalization or exclusion by facilitating the encounters of similar life stories, using innovative digital and artistic tools to mediate.
Who we are?
The SO-CLOSE Consortium gathers NGO's, cultural institutions, academics, IT specialists and representatives of local communities from Greece, Italy, Poland, Spain and Sweden. The SO-CLOSE tools design is the result of participatory research of four cultural institutions and stakeholders' involvement in the project through over 200 interviews, focus groups and surveys that took place in Poland, Italy, Greece, and Spain. The technological partners that developed the toolbox were LaTempesta, in charge of the sharing tools, and Engineering with CERTH, of the MCP.
Maps-stories
In SO-CLOSE's story-maps, life-related geography is the main thread of the narrative that connects the routes of forced displacement, creating a comparative dialogue between the memories of local communities and the experiences of today.
At Villa Decius, we conducted several interviews with people forced to leave their homes in Libya, Ukraine, Afghanistan and Belarus in recent years, and we also conducted searches in the archives, restoring the life stories of Poles, Jews and Roma who were so close to our cities.
The music for the story was composed and played by Estonian-German musician Vsevolod Pozdejev and Belarusian-Ukrainian musician Zhenya Wielko, whose history can also be found in this project.
Villa Decius Storymaps https://so-closetools.eu/storymap/villa-decjusza/
Virtual Exhibition
The traditional concept of storytelling is translated here into a digital format and enriched with user input. The SO-CLOSE virtual exhibition is a platform that aims to offer cultural institutions a comprehensive approach and promote a collaborative approach through crowdsourcing initiatives that enable communities to share heritage items in selected exhibitions.
Villa Decius Virtual Exhibition https://so-closetools.eu/virtualexhibition/decius-villa/exhibition/unpromised-land/
All solutions developed during the project, together with a package of information and training materials, are available free of charge, interested organizations and institutions are welcome to contact us: soclose@uab.cat